Solar's time has come!
The costs are dropping and the incentives are still strong. If your home or business has a sunny roof, it's definitely worth your time to explore your options. Working with EnergySage, we've made it easy to compare up to 7 quotes from local solar companies online — without sales pressure.
Why install solar now?
The National Renewable Energy Lab has documented a 61% decrease in installation costs from 2010 till 2017, nationwide. Solar is becoming increasingly accessible to the average homeowner.
Massachusetts & Rhode Island are friendly states to solar!
Payback periods now average between 4 and 6 years in MA & 6 and 10 years in RI.
MASSACHUSETTS
In Massachusetts, both net-metering credits and Solar Renewable Energy Certificates (SRECs) have been used to incentivize installing solar. Incentive systems such as SREC I and SREC II have been generating up to $2,500/year on average in income for solar PV owners, making for a shorter payback period. This incentive will shift in spring or summer 2018 to the SMART incentive (the value of which has not yet been determined, but is projected to be lower than SREC II). Additionally, there is a state tax credit of up to $1,000, and sales and property tax exemption for PV installations.
RHODE ISLAND
With net-metering credits, plus sales and property tax exemptions, solar payback periods in RI now average between 6 and 10 years, but can be shorter. Rhode Island has a great Small Scale Solar Grant program, which offers up to $10,000 off the gross cost of installations. Applications will open on February 15, 2018 but you can start reviewing solar incentives with your chosen installer now.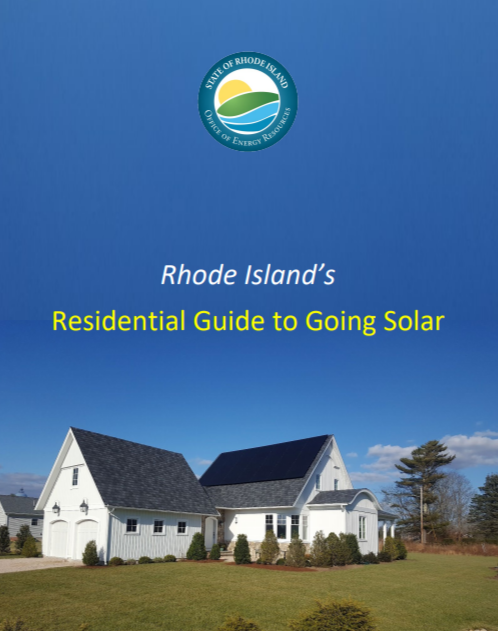 The State of Rhode Island Office of Energy Resources has released the RI Guide to Going Solar to help homeowners explore options for roof-mounted solar. Learn what the state's solar guide has to offer and how you can take advantage of current solar incentives and programs, making solar more accessible and affordable for you.
Benefit from solar whether you own or rent.
We know that researching solar can be intimidating due to the complexity and cost of solar installations. If you're interested in benefiting from solar (whether you rent or own a home or condo), get started by comparing your options through the EnergySage platform, an independent web interface designed to make choosing a solar installer as easy as booking a flight on-line. Hint: You may find getting a stable electricity price through community solar to be a better option than installing your own panels.
You can read our review of EnergySage, but here are just a few of the reasons.
Free, quick and easy registration: answer a few questions and estimate or upload your electric bill and you're all set to start getting quotes
Privacy: you don't have to share your contact info with any of the installers
Competitive pricing: National Renewable Energy Labs (NREL) has documented 10-20% savings when you get quotes through an independent quote aggregator like EnergySage, instead of just calling solar installers separately. Last year in Massachusetts, EnergySage helped Mass Solar Connect participants save an average of 7% compared to the average price in the state.
Apples-to-apples presentation: EnergySage sets the assumptions and criteria for the installers so you can easily compare quotes
Free, informed assistance: EnergySage's solar advisers are always available to walk you through the quotes, sharing their expertise on technology, installer's track records, financing, and incentives
Information on community solar: You can save money through solar net-metering credits on a community solar installation. EnergySage will help you navigate your options
EnergySage offers great information. Get started on your research by registering now.